Dear Colleagues,
This year, faculty and staff of the Department of Pediatrics at the University of Chicago are celebrating 90 years of providing comprehensive, complex and evidence-driven clinical care to children in our community and across the world, training outstanding academic pediatricians, and contributing new knowledge through translational research and clinical investigation that will transform the lives of children with complex diseases.
Already, we are in our second year of the Chicagoland Children's Health Alliance — a collaboration among UChicago Medicine Comer Children's Hospital, Advocate Children's Hospital and NorthShore University Health System. Through these joint efforts, patients and their families with needs in pediatric cancer and blood diseases, cardiac diseases (as well as patients requiring complex general surgery) are benefiting from easier, more convenient access to the specialized expertise of all three organizations including many of our nationally renowned faculty. We anticipate, as the collaboration deepens to include additional pediatric subspecialties that our scholarly mission will also be enhanced significantly.  
A few of the extraordinary clinical and research advances that took place in 2019 are highlighted in this annual report. For example, a New Onset Seizure Clinic ensures that children experiencing seizures can be rapidly seen and evaluated by a team with special expertise in pediatric epilepsy. Under the leadership of Douglas Nordli, MD, the neurosciences program has accelerated the availability of epilepsy surgery to children with intractable epilepsy, complementing our interest in the role of diet in seizure management.  UChicago Medicine researchers are leading the charge to educate clinicians and families about monogenic diabetes, a rare and frequently misdiagnosed subset of the disease. Similarly, a neonatologist and neuroscientist Timothy Sanders, MD, PhD, is using powerful new imaging tools and data-processing technology to understand how tissues form in the developing fetus and newborn, allowing us to model why disease occurs and, hopefully, preventing or developing new therapies to address characterizing and treating these frequently catastrophic events. Finally, under the leadership of Mark Abe, MD, and Jamie Holbrook, MD, Comer Children's sedation service was recently designated one of only nine Centers of Excellence across the country by the Society for Pediatric Sedation
While our facilities and programs have evolved and expanded over the past 90 years, we will always be committed to the effective and personalized care of children and their families, the education and training of the next generation of pediatrician and pediatrician-scientist leaders, and the research that continues to keep the Department of Pediatrics At The Forefront.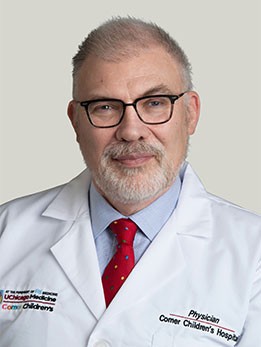 John Cunningham, MD, MSc, MRCP
George M. Eisenberg Professor
Chair of Pediatrics
Physician-In-Chief, University of Chicago Medicine Comer Children's Hospital
John Cunningham, MD, is an internationally known expert in the treatment and research of childhood cancers and blood diseases. He has particular expertise in treating leukemia, lymphoma, immunodeficiencies, sickle cell disease and thalassemia. He is a recognized leader in the field of pediatric stem cell transplantation and has developed novel uses for this life-saving treatment.
Contact me on Doximity